Tips for cleaning velvet carpets (velour carpets)
Rugeast.com
Carpets made of velvet – also called velor: Soft and extremely pleasant to the touch. Velvet carpet is a carpet that is both beautiful and has a pleasant texture, which is why furnishing houses and interior designers love it so much. In recent years, the velvet carpet has come back into fashion. This material covers home textiles in all its facets and is especially used to make sofas and armchairs stylish. But there is another side to this coin – velvet carpets may not be easy to clean.
Unlike many other fabrics, it is not easy to wash. But do not worry, we present useful methods for cleaning a velvet carpet, so you can wash your velvet carpet without worry.To buy a very high quality carpet buy, visit the Rugeast website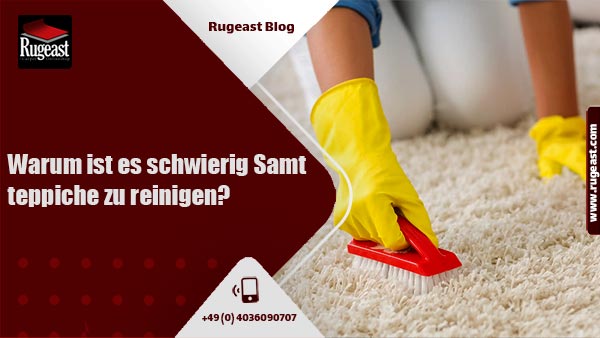 Why is it difficult to clean velvet carpets?
It is a common misconception that velvet is high maintenance. In fact, these carpets are not so delicate and can last for decades with proper care. However, you should pay attention to the cleaning of velvet carpets a few things. Because with improper care, you can destroy the fibers of the carpet.
You will find that when you sit on a velvet rug, the hairs get tangled or pressure points develop. Over time, the fabric will return to its natural state, or you can gently steam the carpet to smooth it out. Like leather, velvet gets better with age.
Cleaning velvet carpets can be very easy as long as you follow the cleaning tips for them. Velvet refers to texture rather than material, so velvet pile rugs can be made from a variety of natural and synthetic fibers. Traditionally, velvet rugs were made from the finest wool, but modern velvet rugs available today use synthetic materials to make them more durable and affordable. A velvet rug can be made of polyamide, polyester, Tencel, wool or a wool/nylon combination.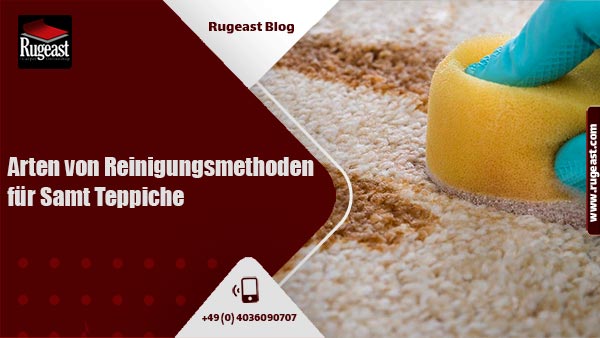 Types of cleaning methods for velvet carpets
Velvet can be easily damaged, so be careful when cleaning it. Always test your cleaning method on a piece of fabric that is not directly visible to avoid damaging your carpet. Never use chemicals to clean velvet carpets.
The methods we recommend are as follows:
1. clean the velvet carpet with furniture polish
You can use a furniture polish to clean velvet carpets. Test the cleaner on a separate area, such as under the carpet. Check and make sure that it does not discolor or otherwise damage the material under the carpet. Carefully apply the furniture polish to the velvet with a soft sponge. After the velvet is clean, vacuum and brush it a few times to keep the carpet looking clean.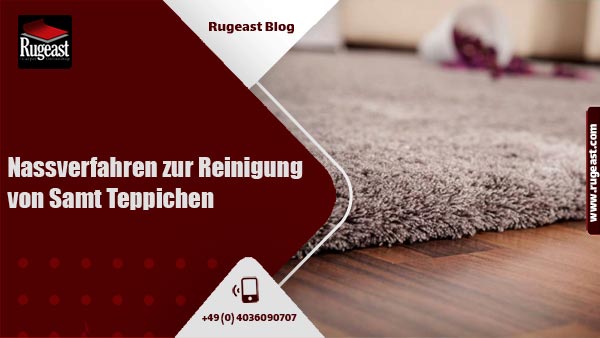 2. wet process for cleaning velvet carpets.
If liquid is spilled on the velvet rug, blot it with a paper towel or cloth. Make sure that no food or dirt remains on the carpet. Pour a small amount of water and dishwashing liquid into a bucket and stir. Gently wet a cloth and rub gently on the stain. It is important that the affected area dries quickly. Use a hair dryer or a fan to speed up the drying process.
3. dry process for cleaning velvet carpets.
Use a paper towel or soft cloth. Put dry detergent on a sponge and blot the stain frequently. Allow the detergent to dry completely on the cloth, use a hair dryer or fan to dry it as quickly as possible. If the velvet looks dull, use a soft brush to remove the remaining cleaner.
In our opinion, the best way to clean velvet carpets is to keep them clean at all times. Don't wait for dirt to show up on your velvet carpet. If the carpet is already heavily soiled, cleaning it is much more difficult, and its life will be significantly reduced.
Even if the first cleaning result looks good, problems such as rapid resoiling, discoloration of the carpet fibers as well as pilling can quickly occur. If the above methods do not help clean your velvet carpet, contact a professional carpet cleaning company with confidence.
Rugeast Blog