The differences between carpets and kilim
Rugeast.com

Kilim carpets
and classic carpets are both authentic Iranian craftsmanship. They are very similar at first glance. But if we take a closer look at the other specifications, such as structure and price, we will notice many differences. Kilim is a word of Turkish origin that refers to a pile-free carpet with many uses.
To weave the carpet, they use several flat weaving techniques. In addition to Iran, this weaving art is also found in other regions such as Turkey, the Balkans, the Caucasus, Afghanistan, Pakistan and Central Asia. The most important feature of a kilim carpet compared to a classic carpet is its pile. Classic carpets are thicker and have a different texture. We will discuss these differences further on.
Carpets and kilim rugs are valuable home accessories that have many fans. But not everyone knows the difference between the two. In each case, different principles are followed and different raw materials are used. Due to the fact that kilim carpets are older than classic carpets, they use traditional raw materials such as wool and cotton in their texture. On the other hand, besides wool and cotton, fibers such as silk are also used for carpet weaving. With the advent of carpet weaving machines, synthetic fibers are also considered a widely used material in carpet weaving. Raw materials are, of course, only one of the differences between classic carpets and kilims. We will explore more distinctions of these popular and original products below.
What materials is the carpet made of?
Carpets are made of 100% wool, sometimes cotton is used in the production. Wool is a good choice for rugs because it is a very durable fiber that is easy to work with and plant dyes go well with it.
The difference between a classic carpet and kilim in terms of your application
As already mentioned, unlike classic carpets, kilim carpets have no pile. This can be seen already at the first glance . In carpet weaving, the pile threads are wrapped around the threads and the weft is laid on top. But in kilim weaving, only the weft is passed between the threads and there is no pile. This has led to the fact that the applications of classic carpets and kilim carpets are different. The functional differences between the two are:
The design of the kilim is limited and its patterns are simple and abstract. In the classic carpet can be implemented any complex and detailed design.
Due to the simpler designs and patterns, they usually use kilims for modern decorations.
On the other hand, classic rugs with their eye-catching designs give the room a beautiful atmosphere and stand out better. The vibrant color palette is another attractive feature of the classic carpet.
Kilim rugs can be used as floor covering, wall hanging, tablecloth, furniture cover, bedspread and pillow cover. The variety of carpet designs and colors makes it suitable for any interior style, whether Scandinavian, classic, modern or rustic.
Classic carpets are used for industrial and commercial facilities, stores, hotels, etc., in addition to private homes, due to the high variety of fibers, price, quality and design.
Due to the technology and high speed of weaving, kilim carpet product are less soft and durable than carpet. For this reason, today it is not much used for daily use and flooring, and its decorative aspect is more in the foreground.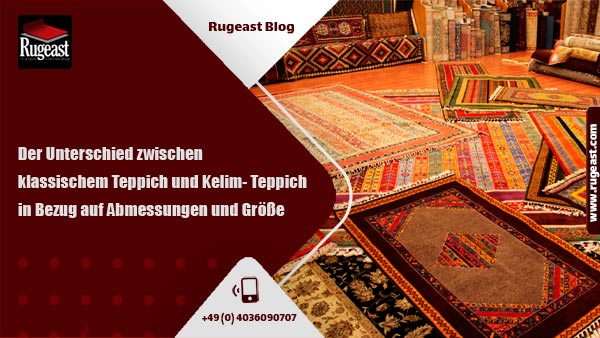 The difference between classic carpet and Kelim carpet in terms of dimensions and size
Since the Kelim carpet has no pile, it is flat. Accordingly, they are much simpler weave and lighter than classic carpets. Horizontal dar is often used for kilim weaving and vertical dar for classic carpet weaving. Generally, kilim carpet is offered in smaller sizes. Machine-made classic carpets are available in standard sizes of 6, 9 and 12 square meters. These are also made in shapes such as square and circle.
Fine woven kilim carpets
The rug is woven in a width of 100-110 and a length of 160-170 with a finer texture than other larger rugs. The texture of this carpet is no longer common among nomads.
Medium size kilims
Have a size of 150 x 250 cm and are popular as home accessories.
Large kilim carpet, the most widespread among nomads
Wide applications of this product with dimensions of 170 x 280, such as carpet pad, cover food, cover the load of horses and camels and so on.
🔻House decoration with kilim carpet
A rare hand woven long kilim carpet
This with a length of 4 meters and a width of about 2 meters is used on special occasions among the Iranian nomads.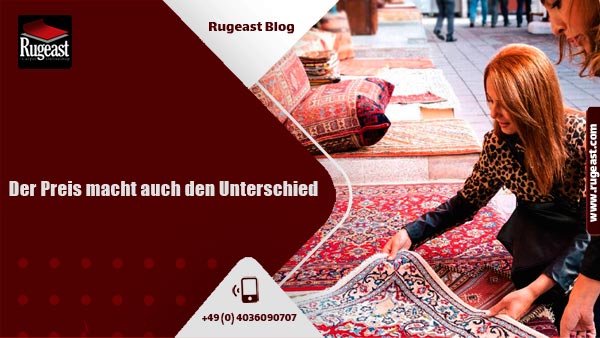 Why do kilims cost less than most other handmade rugs?
Did you notice the price difference between the two when you went to the stores to buy rugs and carpets? The higher price of a product definitely indicates its higher quality and value. But considering the similarities between carpets and rugs, why do they have different prices?
Use of more materials in carpet production
As expected, more materials are used in the manufacture of classic carpets. The difference in the amount of raw materials in the production of classic carpets and kilim is very significant and impressive. For example, it takes 8 kg of wool to weave one square meter of classic carpet. But only about 1 kg of wool is enough to weave the same dimensions of the Kelim carpet.
Lower speed and higher accuracy for carpet weaving
The carpet must be woven exactly according to the pattern, but the design of the Kelim carpet depends on the taste of the weaver. These elements increase the weaving speed of the Kelim carpet compared to the texture of the hand-woven classic carpet. A carpet weaver must first know how to read a pattern, and then create the designs according to the pattern. This work is very time-consuming and requires high precision.
Classic carpets are more valuable than kilim carpets
Taking into account the above factors, it is easy to conclude that the classic carpet has a higher value compared to the carpet. But do not forget about this point, because, as already mentioned, carpets are very affordable even in large sizes. If you have a small budget for buying your rugs, these are good options to choose from.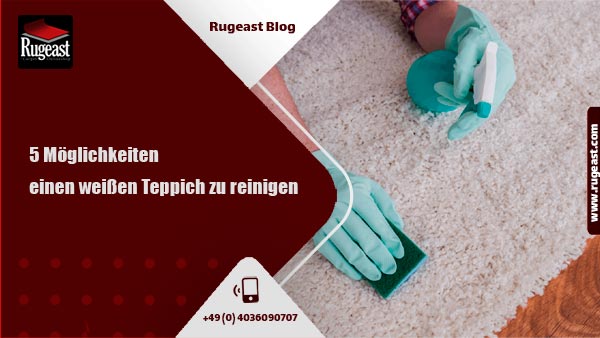 5 ways to clean a white carpet
White rugs are beautiful and add a lot of character to any room they are placed in. However, the slightest stain on a white carpet quickly becomes noticeable and spoils the overall effect of the room. If you want your white carpet to always be in the best condition, you need to know how to clean it. The best methods for cleaning white carpets are:
White vinegar
Vinegar is one of the best carpet cleaners for water soluble stains. If the carpet stain was caused by spilled milk, soda, jam, fruit, paint, alcoholic beverages and animal urine and feces, vinegar is an excellent choice.
How to use the vinegar:
Dissolve a quarter teaspoon of white vinegar in 1 liter of water.
Mix the liquid well and pour it into an empty spray bottle.
Spray the resulting liquid on the dried area.
Clean the area with a sponge and then dry it with kitchen paper. Thoroughly remove moisture from the cleaned area.
However, you can also use a non-bleach detergent or clear dishwashing liquid in place of vinegar.
Remove targeted stains with ammonia solution
Some stains such as chocolate stains, vomit, blood, wine, coffee, tea and mustard cannot be removed with white vinegar solution. To do this, mix one tablespoon of ammonia solution with one cup of water and pour it into a spray bottle. Then spray on the stain. Wipe the stain quickly with a clean cloth for better effectiveness.
3. iron for greasy stains
To remove oil or wax stains from a white carpet, place a paper towel over the stain and iron. Finally, use water and detergent.
4. alcohol for adhesive stains
You can remove adhesive stains from your white carpet by placing a cotton pad dipped in alcohol on it.
5. remove chewing gum stains with ice
Is wax or rubber sticking to your beautiful white carpet? Place an ice pack on the stain for 20 minutes.
Rugeast Blog