Cleaning all types of carpets and steps for carpet cleaning
Rugeast.com
The type of carpet cleaning depends on the type of carpet, and any product selected may be more or less suitable to achieve certain results. For this very reason, it should be said that before you buy, it is better to think about what kind of cleaning the particular carpet needs and what further care is required. Read on to learn more about how to wash your carpet.
Types of carpet cleaning methods
Our carpets are not safe from the effects of our busy and active lives. Daily foot traffic and the inevitable stains ensure that they need regular cleaning. Below we will go over various methods of carpet cleaning.
Carpet cleaning
One of the ways you can wash your carpets is by using a carpet cleaner. In fact, regular professional cleaning will ensure that you have clean carpets that smell good. In addition, regular maintenance helps to preserve the original color of the carpets for a longer period of time and remove stains as much as possible.
When you contact a company that specializes in carpet care and cleaning, you can choose from several types of services to disinfect, deep clean, remove bad odors and revitalize colors, depending on the type of carpet and the nature of the stains.
Carpet cleaning at home
If you want your carpet to last longer, you should clean and maintain it regularly. Carpets and rugs should be cleaned at least once a year, but preferably washed once every three months. Living room, dining room or hallway carpets get dirty faster because you walk on them more often. They are also real nests of germs and mites. Home methods of carpet cleaning can be very useful for you, which we will discuss in the next sections.
We recommend vacuuming several times a week to prevent dust and dirt from penetrating the fibers of your carpet.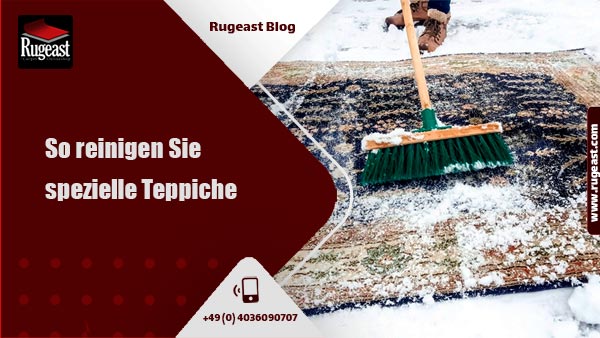 How to clean special carpets
Care is essential to keep them clean and smelling good, and avoid using do-it-yourself solutions that can irreparably damage the fabric. For effective cleaning, it is necessary to use the right equipment and tools that guarantee excellent results. Cleaning the carpet in its specific type may seem difficult, but if you follow the instructions below, you can easily cope with the cleaning of special carpets.
Wash the carpet with vinegar
If you are looking for a natural solution, you can wash your carpet with a sponge and soapy water. Then use vinegar water to wash the carpet.
Clean with ammonia for clear coatings
For light-colored floors and carpets, use a little ammonia diluted in soapy water and rub your carpet with a cloth or sponge dipped in the mixture. Leave the solution to act and wash with a damp cloth in warm water.
Use shampoo
Carpet cleaners are proven products. These very practical machines move hot water to wash the cover, and then vacuum the dirt.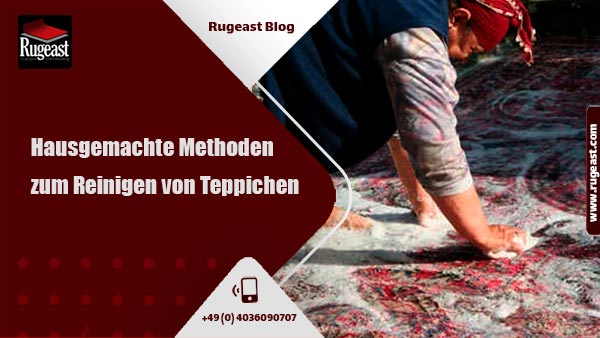 Homemade methods for cleaning carpets
In this section we will show you methods and tricks to clean your carpets using only natural methods. These methods include the following.
Potato peels
Obviously, it is the most natural and cost-effective product to clean your carpet. Prepare a decoction of potato peelings and then apply it to the carpet with a sponge. Leave this preparation on your carpet for a few hours and then rinse it off with clean water and a sponge. Let the carpet dry and then vacuum it again.
Sparkling water
Add some baking soda to water and it will work wonders on your carpet. In fact, natural gas released by water works very well as a stain remover. Soak the carpet in bubble water and gently rub it with a brush in small circular motions. Let it dry for about 30 minutes and sprinkle the carpet with baking soda. Let it dry again for a few hours and then vacuum the carpet.
White vinegar and detergent
This carpet cleaning method is used when your carpet is dirty. As in many situations, white vinegar is the main means of a good and inexpensive cleaning. Pour white vinegar on the carpet and rub on the stain in circular motions. Leave the vinegar to act for a good quarter of an hour.
Then coat the wet yarn with a little dishwashing liquid, always in small circular motions until it foams well. When the stain is well moistened, do not hesitate to use a small brush. Wash with clean water with a sponge. Then wipe the carpet with a clean cloth, preferably an old bath towel, which absorbs the moisture of the carpet much better. Allow to dry and then vacuum.
Shaving foam
Another natural way to clean the carpet is shaving cream. Incredible as it may sound, the power of shaving cream will clean your carpet. Apply a thick layer of shaving cream to the stain. Leave it on for 30 minutes to 1 hour, then remove with a damp sponge in circular motions.
Allow the carpet to dry and vacuum it. If you do not want to wash, it is not a problem. Leave the shaving cream on for a few hours (ideally overnight) and then vacuum the carpet the next morning.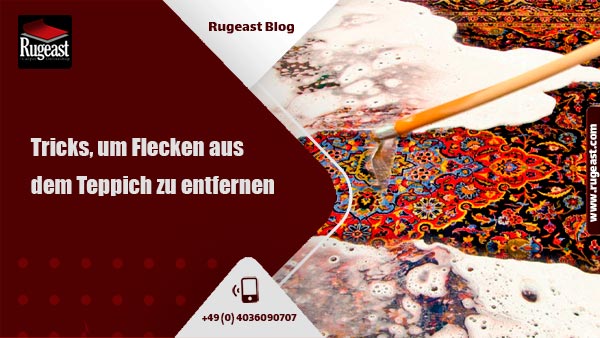 Tricks to remove stains from the carpet
As you have read, cleaning the carpet was not very difficult. Cleaning carpets is essential mainly for hygienic reasons and thanks to some tricks you can keep them looking like new for a long time
To remove stains, you can use water and vinegar or water and alcohol, rubbing on the affected area and making sure to follow the direction of the hair. Carpets should always be air-dried, but in no case exposed to the sun, otherwise the colors will fade and irreparable damage will occur. If these points are not enough to clean the carpet from stains, read the next point.
Remove stains from the carpet with lemon
Mix lemon with vinegar and pour on the stain and carefully wipe with a clean cloth. Use lemon juice and vinegar only on the light textile surfaces of the carpet due to their bleaching properties.
Important tips for washing carpets at home
When cleaning and washing the carpet, you should pay attention to some points. A good solution is to use professional detergents that not only create a good smell, but also have a completely disinfecting effect. A convincing way of cleaning is with detergent with active oxygen, which increases washing performance and guarantees little foam.
Before washing, clean the carpet with a vacuum cleaner to avoid dust and small residues.
Important points when washing the carpet with a carpet cleaner
To clean the carpet with carpet cleaner, you should simply clean your carpet with a sponge soaked in water and mix it with a few drops of dishwashing liquid. Vacuum regularly to maintain the carpet, especially if you have pets at home. Regular cleaning allows you to invest less energy in cleaning to remove some stubborn stains.
Note that baking soda and mineral water are two very good products to get your carpet clean again. Be careful not to use harsh products, rub too hard or pour too much water on your carpet, especially if the carpet is delicate.
Rugeast Blog