What is a Berber rug and how is it cleaned?
Rugeast.com
Berber is a very versatile carpet style and combines well with all kinds of decor. While it used to be only for living rooms, it is now a popular choice for all areas of the home. The look and sturdiness of Berber carpet have made it an attractive choice for homes and offices.
What is a Berber carpet?
The term Berber generally refers to a rug made of a light pile with darker edges (usually brown or gray), inspired by the weaving style of the Berbers in North Africa.
Typically, Berbers are often found in carpets with loop patterns. As loop styles became more popular, the color choices for this type of rug became more diverse. Therefore, ringed rugs are offered not only in a few colors associated with Berber rugs, but in many colors. However, the name Berber has remained on them. Therefore, the name today refers to the style of the ring rather than the color.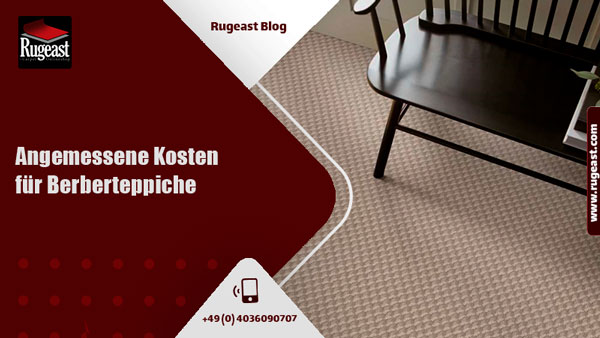 Reasonable cost for Berber carpets
Berber carpets have the reputation of being modern, durable and inexpensive. And that is true. You will get a price-performance firecracker with Berber carpets.
One reason why Berber carpets are durable is the processed materials, more specifically the olefin fibers. Olefin is much cheaper than other fibers such as nylon or wool.
Berber carpets are cheaper to produce than other types of carpets. Little material is cut off and thus costs are saved.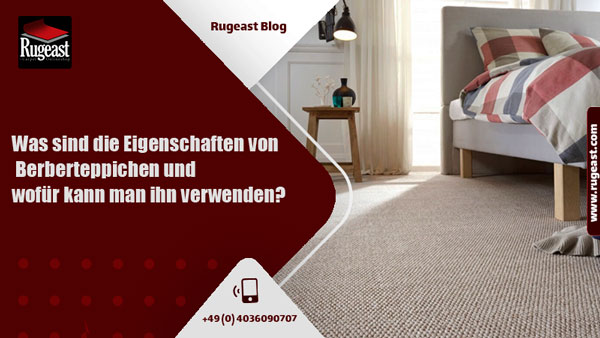 What are the characteristics of Berber carpets and what can you use it for?
Berber rugs, long woven in the Berber tribe, represent a unique type of carpet that has served homeowners for decades with distinctive style and valuable performance. Choosing the right carpet for the home is determined by several factors, such as the degree of durability, decorating preferences, and the required stain resistance and cleaning methods.
In addition to low production costs, Berber carpets offer exceptional durability, stain resistance and wear resistance. Even with heavy use, Berber carpets have high flexibility and their texture does not dissolve. In addition, unlike other types of carpet, they do not leave footprints and are easy to clean.
While many rugs can offer a decent level of stain resistance, Berber can actually be stain resistant and better at absorbing stains. This quality also helps to clean dirt, mud and dust.
For pets, it is important to keep their claws and paws short to prevent them from getting caught in the carpet rings and also prevent them from removing the carpet rings. With proper maintenance and care, a Berber rug in a typical home can last up to 20 years without needing to be replaced.

Types berber carpets
There are two types of Berber style rugs,
modern carpet
and traditional. The modern Berber rug is a tufted rug with a ring style similar to the hand-woven knots used in traditional wool rugs. Manufacturers use for their production wool and synthetic materials such as olefin fibers, also known as polypropylene, and a combination of different materials.
Modern Berber has a light background with darker patterns in several colors. On the other hand, traditional Berber carpets are made from natural materials such as wool and hand-woven looms. Similar to what the Berbers have been producing for centuries. A traditional Berber rug uses a single knot instead of a loop and has colorful geometric patterns against a light background.

Advantages of using Berber carpets
Berber carpets have many benefits for homeowners, including:
Reasonable cost for Berber varieties
Manufacturers produce Berber carpets from different materials. Berber wool carpet is the most expensive type, but olefin, polyester and nylon fiber options are comparable in price and appearance to many other pile carpet types.
High durability of the Berber carpet
Berber carpets are a good choice for high traffic areas in homes and offices because they are durable. It is also difficult to separate material from ring masses. Their ability to withstand heavy traffic has made them a popular choice for bedrooms in the past. Currently, Berber carpets are ideal for high-traffic areas, such as living rooms and offices.
Stain resistance
When liquids are spilled on the surface, they collect on the hard texture of the carpet surface, so you can quickly clean it with a damp cloth. While a simple vacuum cleaner easily collects solids. Carpets, however, are less resistant to deeper stains, especially those of an oily or chemical quality. In view of this, it is important to choose Berber rugs with low-quality fibers not only because of their lower price.

Berber carpet disadvantages
The use of Berber carpets at home also has its drawbacks, among which can be mentioned the following:
Not compatible with pets
Berber carpet and pets are often incompatible. While a pet's paws are unlikely to get caught in the lower pile and injure the animal, carpet fibers can be attractive to cats, who like to use them as play equipment. Over time, this scratching can damage the carpet, especially if it is of lower quality.
The rough texture of Berber carpets
Berber carpets are less soft than tufted carpets. Some carpet fibers used for rugs, like alfin, can even feel stiff underfoot. Berber carpets made of wool or wool carpets mixed with nylon and chemical compound fibers called Trixta are the best soft carpets of this type.
Problems with the vacuum cleaner
Although Berber carpets usually withstand regular cleaning, vacuuming with brushes can aggravate pile knotting and loosen loose fibers in the carpet structure. It is best to change the drive head or turn off the brush option when sweeping.

Cleaning methods for Berber carpets
While tufted, frieze or Saxon rugs can be difficult to keep clean in an active home, Berber rugs can be very practical. They are looped rugs, which means that the actual fibers are formed in short, thick loops that are woven back and forth to create a tight structure.
Baking soda is an essential cleaning tool for stains on Berber rugs. Sprinkling baking soda on the stain immediately will help draw out the moisture. You can then vacuum the baking soda to remove the moisture and prevent mold and permanent stains.
After using baking soda to remove excess moisture, a mixture of vinegar and water can be used to clean it in the same way with cold water. Always start with a small amount of solution and then increase as needed to keep your carpet from getting too wet.
Conclusion
The term Berber refers to the Berber tribes of North Africa and the Sahara region. These groups have been making Berber rugs by hand for thousands of years. Berber carpet is a floor covering that has a distinctive ring texture and a light overall color with darker lines. They are a popular and versatile choice for office and residential carpeting because they are durable, relatively inexpensive and stain resistant.