Important tips for the care of silk carpet
Rugeast.com
Normally, silk carpets are more expensive to buy because of their good quality and special nature compared to the other types. Various factors can affect the price of a Modern Silk Carpet.Therefore, "How to care for silk carpet properly?" is a very common question between people who buy them. Silk rugs will refresh the atmosphere of your home, giving it a new soul and brightening its appearance in an eye-catching way. Having the right cleaning products and cleaning silk carpets properly is the goal of this article, which we will thoroughly explain and teach you. So stay with us until the end.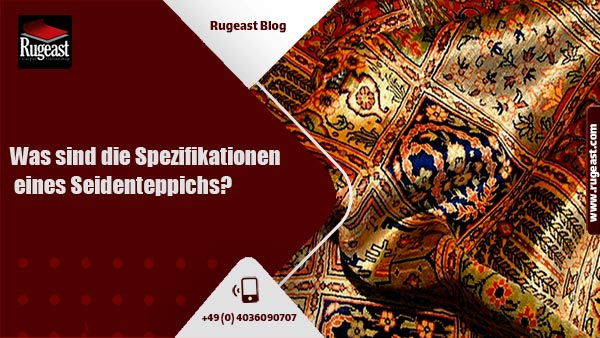 What are the specifications of a silk carpet?
Silk carpets are among the Iranian carpets made of very good, but also expensive cords. We will walk you through some of the important specifications of these rugs in this article:
1. of course, it must be their beautiful and eye-catching appearance first.
2. silk carpets are considered one of the most durable carpets in terms of care and washing, if not the most durable, due to their good quality.
3. considering the fact that these carpets have a lot of pile, they will not cause allergies.
4. created pattens and designs in these carpets are very beautiful.
5. the threads used to make these carpets are very thin and light. That is why silk carpets have a very light weight and delicate fiber.
6. another interesting thing about silk carpets is that they somehow distinguish the pattern and design implemented on the carpet.
7. rich shades are used for production, and the winding density is much higher compared to other types of carpets.
8. high resistance and durability with low weight is one of the special features of silk carpets, which distinguish them from other species.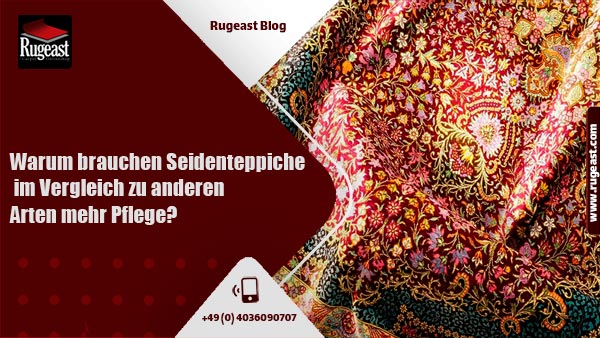 Why do silk carpets need more care compared to other species?
The care of silk rug , considering that silk cords are much more expensive than other cords used in other types of rugs, would definitely be one of the most important things to think about if you have any. Silk carpets are considered a luxury, and this precious value would increase much more if the silk used in it is pure and 100% silk. This is the reason why you take good care of them when it is a must. Silk cords can last a long time without losing quality, so we hardly recommend you to take good care of them.
It is also worth noting that silk cords, despite the fact that they are resistant and durable, are one of the most vulnerable materials. In fact, moisture, heat and also chemicals can cause serious damage to silk, and the smallest damage to silk would have the most expensive price to repair. Do not treat silk carpets like other carpets and do not leave them damp for a long time, as water can cause mold. Pay attention to water, as this type of carpet absorbs water very strongly.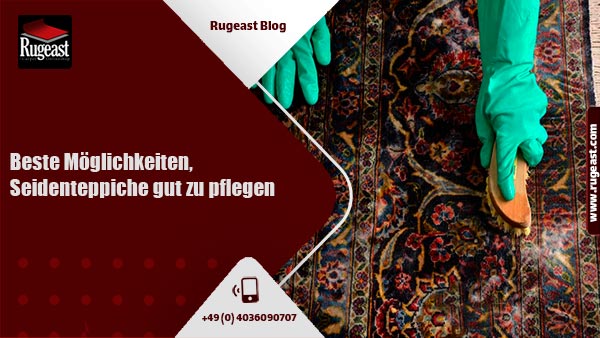 Best ways to take good care of silk carpets
To take good care of silk carpets, there are some techniques that we will explain:
It is much better to use vacuum cleaners when cleaning silk carpets as rarely as possible, shake them is much better.
If you have to use a vacuum cleaner, be sure to use the one without a brush so as not to damage the root and cords of your carpet
Do not use silk rugs in places with a lot of traffic, for example, do not use them near restaurants.
Due to their light weight, silk carpets are very easy to move. To prevent this, you can use carpet stoppers.
Make sure that you put a lot of thought into choosing the place where you will use these rugs. Use silk carpets better on parquet or stoneware and never put silk carpets on chalky or limestone floors, as this will gradually damage the fiber of the carpet and your precious carpet will lose its precious quality.
If your carpet happens to get stains, we recommend you to wash it the old way and never use the modern method and chemicals as it will damage your carpet very easily. If the stain is also resistant, the use of a little salt can be practical.
If you follow these rules, you will take good care of your silk carpet.Care of silk carpet prolongs its service life
Conclusion
As I said, it is much better to wash and clean in the old-fashioned and correct way. In case of stains or water spoilage, it is very important to act quickly. In most cases, acting quickly when your silk rug is exposed to stains or water can prevent many more actions and costs in the future that would otherwise be incurred if you did not act quickly.
Also, don't forget that if the stains are large and stubborn, you can always leave the work to people who specialize in these tasks. Never use chemicals to clean or wash silk rugs and never use too much hot water when washing the rug, as this can damage the fibers of the rug.
RUGEAST