Home decoration with kilim carpet
Rugeast.com

Kilim carpet
are a trendy addition to any interior. These centuries-old rugs from Afghanistan, Iran and Turkey feature unique designs and patterns and are characterized by rich, vibrant colors. House decoration with kilim rugs interior becomes something special
They can be an eye-catcher in any room and are available in different sizes and price ranges. You can even use it as a wall hanging or upholstery fabric.
In our online store you will find a wide selection of carpets to match any design. We keep these carpets, so do not hesitate and
buy carpet
them as soon as possible
In this article we will show you the best ways to decorate your home house decoration with kilim rugs.
We present: Kilim carpets
Kilim rugs are the epitome of unique character and beauty and originated in the Middle East, Central Asia and North Africa. These flat-woven wonders are made by weaving wool, silk or cotton threads on a loom to create vibrant colors and intriguing geometric patterns.
So why not incorporate kilim rugs into your interior design and bask in their splendor every day? With their free flowing patterns and designs, kilim rugs are the perfect expression of the weaver's emotions throughout the weaving process.
You can use them anywhere in your home – as a floor rug, couch cover, bedspread, pillowcase or wall hanging, and the possibilities are endless!
Thanks to their versatility, you can use them to make an eye-catching statement in your space or add a touch of history and style as you see fit. Decorating with kilim rugs is guaranteed to be fun and enjoyable.
With their unique character and beauty, kilim rugs are the perfect addition to your living space that everyone will love.
Read more: What to look for when buying an
Oriental carpet
you should pay attention to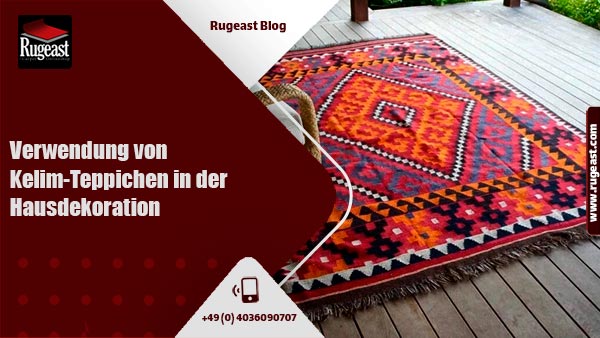 Use of kilim rugs in home decoration
Here are some ways to make your home dreamy with kilim rugs:
Make your entrance area great
When it comes to designing your home, the hallway or entryway is one of the most overlooked spaces. However, with a little attention, this space can be transformed into an inviting and stylish area that sets the tone for the rest of the home.
One way to add some much-needed flair to your hallway is with a kilim runner. These rugs are known for their bright and bold patterns that can breathe life into an otherwise drab room. You can choose a print that matches the colors of your furniture, or you can go for a more contrasting look that stands out.
To achieve this look, keep your furniture neutral. Think white or beige dressers, console tables or benches. This way, the rug can serve as the focal point of the room without being too overwhelming.
But why limit yourself to only one carpet? Adding some greenery to your hallway can give it a real sense of serenity and whimsy. Try adding a large potted plant, such as a fiddle leaf fig or snake plant, to create a dreamy atmosphere.
Create a new area in your home
There are several advantages to using carpet in a living space, especially when it comes to creating specific areas within a room. By choosing a rug with a unique texture or pattern, you can effectively separate different areas of your living space for more flexible use of space.
For example, if you have an open living room that doubles as a dining area, consider using a kilim rug to better separate the two spaces.
This can help keep your dining area from becoming visually cluttered, while also giving your seating area a defined, cozy feel.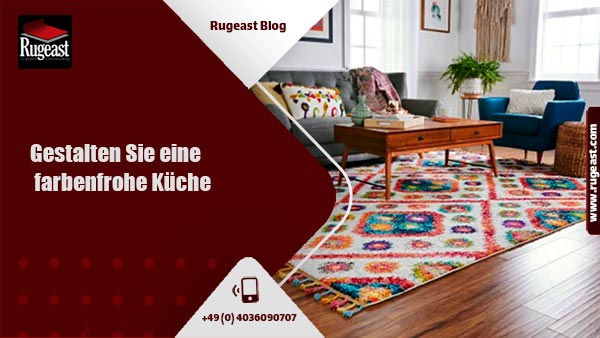 Create a colorful kitchen
If you want to add a unique flair to your kitchen, why not try a colorful kilim rug? Whether your kitchen looks rustic and cozy or minimalist, a well-placed rug can instantly transform the space.
For a bold statement, pair the rug with colorful plates and glasses. Alternatively, you can create an eye-catching contrast with minimalist furniture and a colorful rug.
To make your kitchen a showstopper, choose a carpet shade that contrasts with the room's predominant color scheme for a stunning visual effect. Not only will this add some texture and character to your kitchen, but it will also create an attractive look that will impress anyone who enters the space.
Be very careful when choosing the color. If the color is chosen incorrectly, all the dreams you had about decorating your home with carpets can be destroyed. Usually, light colors are recommended for small houses, as they make the room look larger. In large houses dark colors make the room look more cozy. Knowledge of this seemingly simple matter will have a great impact on the results of the work.
Be careful that there are many carpets on the market with low-quality artificial color. Artificial colors, of course, significantly reduce the value of the carpet. To ensure that the color is natural, draw on the carpet with a damp cloud when you buy it. If you see even a very small amount of color on the cloud, you know that the color of the carpet is synthetic and of low quality. Such a carpet will soon lose its original color and will no longer have its original luster. Decorating the house with natural colored carpets is one of the important points, because the more the carpet wears out, the more beautiful it becomes.
Hang it on the wall
If you're looking for an unconventional yet appealing solution to add some warmth and personality to your living space, consider hanging a beautiful kilim rug on the wall.
You can place it next to your bed or sofa to create a cozy and inviting atmosphere. Moreover, by hanging a kilim rug in your hallway, you can instantly transform it into a stylish space.
You can place a dreamy bench in front of it to add to the atmosphere, and decorate the area with some pretty plants to create a refreshing environment. By following these simple tips, you can create a unique and inviting living space that perfectly suits your style and personality.
Make your bedroom dreamy
If you want to improve the overall aesthetics of your bedroom and make it more cozy and inviting, consider adding a beautiful kilim rug to your decor.
Kilim rugs come in a variety of stunning colors and patterns, making them a great choice for any bedroom style, whether minimalist, California or bohemian.
Not only do kilim rugs add a pop of color and texture to your floor space, but they are also a practical choice as they can help to keep your feet warm on colder days.
🔻Thedifferences between carpets and kilim
By adding a kilim rug to your decor, you can instantly transform your bedroom into a warm and inviting space that you'll love coming home to every day. It also allows you to organize the space in your room and divide it into several useful areas.
Tips for the care of kilim carpets
If you follow these tips, you can keep your kilim rug in excellent condition for many years.
1. Vacuum regularly: It is important to vacuum your kilim carpet regularly to remove dust and dirt that settles on its surface. Use a vacuum cleaner with low suction power and brush attachment.
2. rotate your carpet: to distribute wear evenly, rotate your kilim carpet every six months. This also prevents uneven fading.
3. spot cleaning: Remove spills and stains on your kilim rug immediately. Blot the area with a clean cloth or paper towel before using a cleaning solution.
4. do not use harsh detergents: avoid using harsh detergents for your kilim carpet. Instead, use a mild cleaning solution and test it on a small, inconspicuous area of the carpet before applying it to the entire carpet.
5. air dry your carpet: if your carpet gets wet, do not put it in the dryer. Instead, hang it on a clothesline or lay it flat to air dry.
6. Professional Cleaning: Consider taking your kilim rug to a professional cleaner every two to three years for a thorough cleaning. This will remove accumulated dirt and grime and extend the life of your carpet.
Buy kilim rugs
Decorating your home with kilim rugs is a great way to add a touch of elegance and warmth to your living space. These handmade works of art not only lend aesthetics, but also serve as a cultural representation of the rich history and traditions of the countries from which they originate.
With a wide range of colors and designs, kilim rugs can complement any interior style, whether modern, traditional or eclectic. If you are interested in buying high quality kilim rugs from all over the East at the best prices, please visit Rug East's website.
Our collection includes unique pieces that will add a special touch to your home and make it extra special. Don't miss the chance to upgrade your living space with a beautiful kilim rug.