5 ways to remove all types of stains from white carpets.
Rugeast.com
Who does not love the color white? White is a soothing color. Do you think so too? Then you probably have a lot of white furniture in your home. However, if you have a white carpet at home, you also know how difficult it is to clean a white carpet.Moreover, you can find a lot of problems in the
Carpet Buying
Ask the carpet store expert about cleaning methods.
Before you start cleaning your carpet, there are a few points you should consider. In fact, it is very important to read the carpet label to follow the recommended cleaning methods. You should also follow different cleaning methods depending on how the carpet was made. In the following sections we will show you what is important when cleaning white carpets.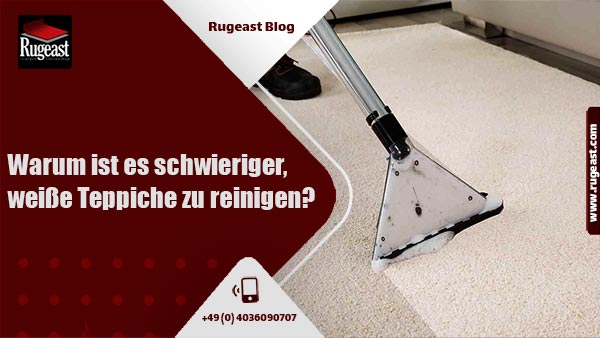 Why is it more difficult to clean white carpets?
White carpets are more susceptible to stains and dirt. Even if you prevent liquids and food from getting on your carpet, regular use can discolor your carpet over time. Cleaning a white carpet involves several steps. To remove dust and dirt, you should vacuum regularly, and to reduce pollution, clean the stains with natural products.
Finally, you should give your white carpet a basic cleaning every now and then. You can do this basic cleaning yourself if you have the equipment, or you can hire a professional cleaning service. If you have a stain on a white carpet it is very noticeable.
Proper carpet care changes everything. By using the right methods, you can extend the life of your carpets by several years. In the next section we will explain the methods of cleaning white carpets.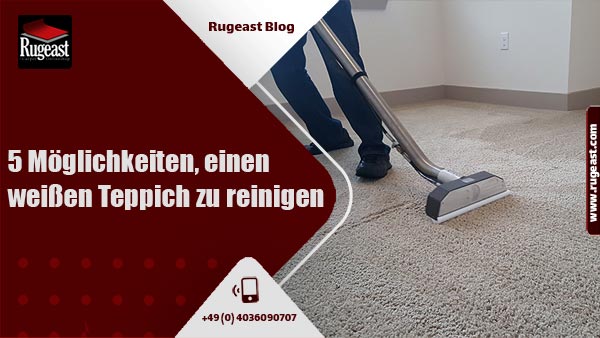 5 ways to clean a white carpet
You don't have to use chemicals to remove coffee or similar stains from your white carpet. Many natural products have the property of being excellent stain removers. We explain 5 ways to clean the white carpet without using products harmful to health and the environment.
1. carbonated water and baking soda
To remove the stain from the carpet and restore its shine, brush your white carpet with a sponge using sparkling water. Brush everything carefully and let it dry for 30 minutes. Then sprinkle baking soda on your carpet. Once the baking soda has dried, vacuum your carpet.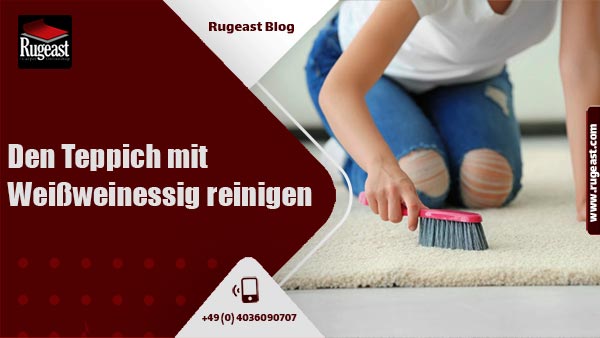 2. white wine vinegar
Another method of cleaning white carpet is vinegar. The effectiveness of white vinegar to eliminate odors, descaling and disinfecting in the home is
known. Blot the stain on your carpet with a cloth dipped in white vinegar and let it sit for 15 minutes. Then brush the carpet with a mixture of water and detergent whipped into a foam.
Wash out the stain with plain water and then wipe your carpet with a clean cloth. Allow to dry after wiping. You can also mix 1 liter of carbonated water and 20 ml of white vinegar and use this mixture as a carpet shampoo. Leave on for 30 minutes and then rinse with clean water.
3. shaving foam
Off the beaten path, shaving cream is an excellent stain remover for carpets that are contaminated with stains. To clean a white carpet, apply the shaving cream in a thick layer and leave it for at least 1 hour. Then rub the carpet vigorously with a sponge. For best results, leave the shaving cream on your carpet overnight and then vacuum it up.
4. soapstone
Soapstone, also called talc is a very effective stain remover with its strong suction power. It is also a light abrasive that makes it easy to remove oil, grease or wine stains from carpet. Sprinkle talcum powder on your stained carpet and cover the area to be cleaned with several layers of paper towels. Pass the hot iron over the napkin and repeat this process until the stain is removed, changing the napkin sheets until they are no longer dirty. Just give it a try.
5. steam cleaner
Steam cleaning is an effective tool that can clean many different surfaces with little or no detergent. To clean a white carpet with a steam cleaner, simply fill the tank with hot or cold water and wait until the cleaner reaches a temperature of 120 degrees Celsius.
Water vapor is the stubborn enemy of stains. Together with the brush nozzle, it cleans the carpet completely. After going over the entire surface of the carpet several times, wash the carpet with clean water and a damp cloth. Allow the carpet to dry and then vacuum your carpet.
Additional tips
Do not ignore the stains. Eliminate stains as soon as possible. The longer the stain remains on the white carpet, the greater the risk that it will penetrate the carpet fibers. This then makes cleaning all the more difficult. The worst thing is the acid that erodes the carpet fibers. Always clean your white carpet early.
Also, resist the urge to clean the carpet directly with water after you discover the stain. Instead, clean the stain with a towel and a cleaning solution. Proper cleaning is done from the outside in.
Do not use bleach on white carpets. Bleach can attack the structure of the fibers and thus aggravate the stain or even cause new stains to appear.
Rugeast Blog